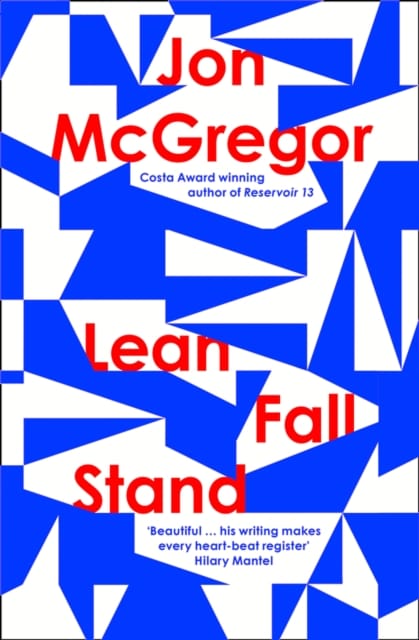 "Lean Fall Stand" by Jon McGregor
Jon McGregor's latest novel, only out in hardback at the moment, has, like all his earlier work been much praised, and quite rightly so. There never seems to be any similarity in his fiction, with the exception of being well-crafted.
Once again he has written a totally different and unusual story focused on, and begins with, a research expedition to a permanent base in the Antarctic. Robert "Doc" Wright is a real veteran and has been going out there annually for decades. He has two raw recruits with him on this trip, Luke and Thomas, a keen photographer.
Things go dramatically wrong in the first section "Lean" and are strikingly recounted in blunt prose from each of the three scientists viewpoint. The authenticity of the landscape is explained as the author travelled to the region as part of a writer's programme. You certainly feel the cold and the barren brutality of their surroundings.
The second part "Fall" sees Doc's wife Anna rudely awakened one morning to hear that her husband is in hospital in Santiago, in Chile. Within pages she is out there, sitting beside his bed, and her life is turned upside down. Her peaceful academic Cambridge existence left behind; her phone inundated with work emails, and plaintive enquiries from her children, Sara and Frank. There are a series of chapters while Doc is in this foreign medical ward, unable to communicate, but aware of Anna, before he is repatriated to the UK, and eventually able to return home, though his speech is still very limited.
Anna's life is a shadow of her previous peaceful normality. She is morally supported, in her own way by her closest friend, Bridget, who has her own past sorrows. Anna is very much alone with a bed-ridden Robert, forever running up and down stairs, fetching and carrying, with just the occasional visits from health workers. Anna is having to learn a new skill, and to change the focus of her life onto her husband, a man who has always been away for several months every year. The events on the ice are being investigated by the Institute, Robert's employer, and while his mobility improves, his powers of communication remain frustratingly restricted.
In "Stand" the final closing third part of this novel, Robert is attending therapy classes in the city, and we witness these and are introduced to a whole plethora of new characters who have similar disabilities. It is here that Robert tries to express himself. Meanwhile Anna, who often attends these sessions, is also involved with domestic matters, the garden, Sarah's life and visits home, Frank's more authoritative contributions. Her life style seemingly changed forever.
Each of the three sections of this novel are very individual; their style alternative. The book is very readable, the main characters dissected by their frailties. The reader a witness to a married couple used to their own space and freedoms suddenly confronted with reliance and dependence and the pressures that brings on them and their family and friends.