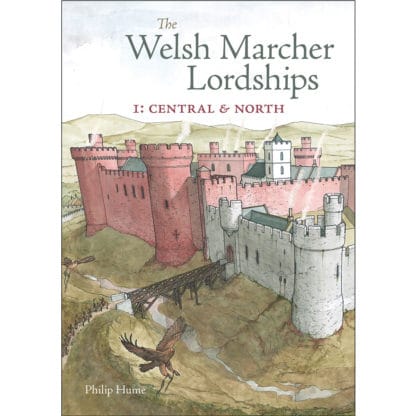 Welsh Marcher Lordships, The: Central & North (Radnorshire, Herefordshire, Shropshire, Montgomeryshire, Denbighshire & Flintshire)
For nearly 500 years the Marcher lordships and their lords were at the centre of events that affected the history of England and Wales, and were scenes of conflict, devastation and conquest. The region was defined by the nearly fifty Marcher lordships that extended from north Wales and the Dee estuary down to the Severn estuary and across south Wales to the coast of Pembrokeshire in the west. It became a unique area as a border region that lay between Wales and England, with its own laws and with exceptional powers exercised by their lords. It was referred to as 'Marchia Wallie' to distinguish it from 'Pura Wallia', and was politically separate from both Wales and from England. The Marcher lords were barons of England and held their lordships from the king, yet they were not subject to many of the institutional and legal structures of the English Crown. Within their lordships, they claimed and exercised many of the powers which the king exercised in his kingdom.
The primary aim of this series is to provide a broad-ranging synthesis of the fascinating history of the Marcher lordships. This volume covers the traditional Welsh counties of Radnorshire, Montgomeryshire, Denbighshire, Flintshire, together with the adjacent lordships in Shropshire and Herefordshire, that also became Marcher lordships. The book describes the distinctive features and powers of the Marcher lordships, and how they evolved in the context of the significant events in Wales and the Marches between 1066 and 1282, that shaped their development. The book also includes histories of each of the twenty Marcher lordships in the region, with a list of the lords and ladies who held them.
Richly illustrated with maps, family trees, photographs of castles, abbeys and other artefacts, the book provides a particularly rich account of the fascinating history of the Welsh borderlands during this period.
Philip Hume is secretary of the Mortimer History Society, author of various books and articles, and a popular speaker on the Mortimers and the Marcher lordships.
Forthcoming in the series:
The Welsh Marcher Lordships: South-west (Pembrokeshire & Carmarthenshire)
The Welsh Marcher Lordships: South-east (Brecknockshire, Monmouthshire & Glamorganshire