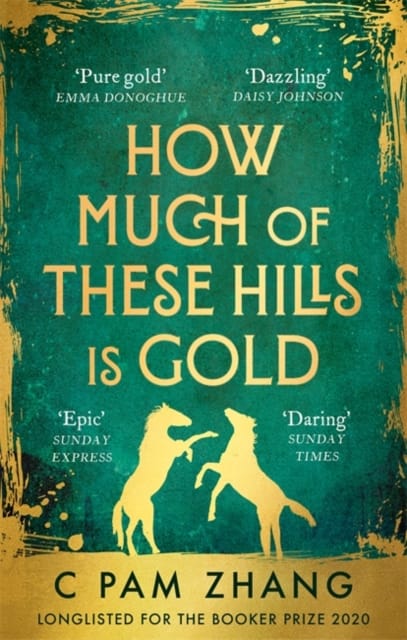 "How much of these Hills is Gold" by C Pam Zhang
When I read this book it was before it was long-listed for the Booker prize in 2020. I can certainly see why is was selected, and was maybe a bit surprised it did not get through to the final six. As a debut novel it is certainly impressive, and several first books did get shortlisted, like the winner "Shuggie Bain" – [see separate review]
Lucy and Sam are eleven and twelve when Ba, their father dies; Ma having already passed away. They are living nearby a desolate coal mining town in the American West; Ba had some success prospecting for gold, and it was his passion, and down coming. The initial chapters recall how and why Lucy and Sam move away, taking their father's body away with them to seek a suitable burial location. The detail of their father's decomposing body brings a level of sordidness to the early part of the book but there is a purpose behind this; the children's lives were never glamorous, and being orphaned and alone they want to lay their father's remains at peace.
The chapters have, in each section of the book, recurring title names, a nice touch. We witness how Lucy and Sam achieve their wish for the interment. Then as their lives evolve, they separate and their individual experiences as they move into adulthood. Sam self identifies as a boy, Lucy the girl she is; this difference in their personalities would never make for a long-term affinity. 
We are witness, in back-flash to their childhoods, and also how Ba and Ma, an immigrant from China met and fell in love, so we see their lives move from being loved children, to cast adrift youngsters. As the book matures so do they, achieved against adversity, and a backdrop of the American West with buffalo carcasses, and mythical tigers to mystify the reader.
This was a book I Enjoyed reading, [the capital E is on purpose], but it is not necessarily an easy read; it was certainly one of the most fulfilling novels I read in 2020, and one I highly recommend, and introduces us to a writer from which we should witness great things.