Ian's Read & Recommended
If you are looking for an idea for you next book – maybe an author you haven't discovered or read before, here are some titles that I have enjoyed.
These recommendations are mainly taken from contributions we have made to Tewkesbury Direct,
and some other reviews.
Click here for Ian's Book of each Year.

Click here to search our shop
"The New Wilderness" by Diane Cook
This is a book I have been meaning to pick up and read ever since it was short-listed for the 2020 Booker Prize. There are always reasons when, being surrounded...
Read More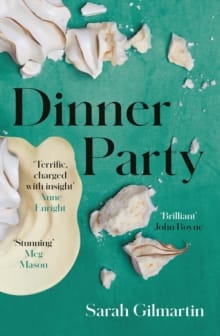 "Dinner Party" by Sarah Gilmartin
Dublin Halloween 2018. Siblings meet up for a dinner party, an annual memorial meal. Not necessarily a happy occasion and this year, it transpires, less so than others. Kate Gleeson...
Read More
"To be a Man" by Nicole Krauss
This is a selection of ten short stories originally published over an eighteen year period in various journals. Nicole Krauss is a very gifted writer, her last novel "Forest Dark"...
Read More
"Snow Country" by Sebastian Faulkes
Sebastian Faulks' latest novel is based in Austria, with three specific time periods forming the structure of this good story. Anton Heideck arrives in Vienna as a student, with ambitions...
Read More
"The Magician" by Colm Toibin
This is a very readable fictionalised biography of Thomas Mann, the German author of "A Death in Venice" amongst many other early 20th century classics. Mann being the Magician of...
Read More
"The Sweetness of Water" by Nathan Harris
Set as the American Civil War is in it's closing stages in a town called Old Ox, in Georgia; the story is based on the relationship of local resident, and...
Read More