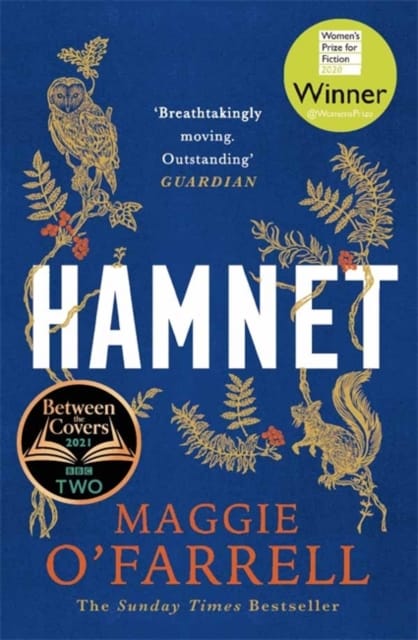 "Hamnet" by Maggie O'Farrell
Maggie O'Farrell's first historical novel has been much praised and it certainly is worthy of all the good reviews it has received. Indeed it is in many ways flawless, and as I read it I thought there was not a wasted word, or one out of place.
The lives of William Shakespeare's own family are recounted here in fictional form. There appears an opaqueness in it, as Anne Hathaway is called Agnes, but the author explains this choice in her notes at the end of the book. Cleverly, throughout, William is never referred to by name, being described as father, husband, son, tutor. Their children are named Susanna, and the twins Hamnet and Judith. Their lives and those of each parent's own parentage are subtly chronicled.
The streets of Stratford seem real, bustling with life, but dangerous with disease, and we even learn how the plague is transferred back to the heart of England. Agnes is a very well formed character, her affinity with nature, even having a pet kestrel which attracts the interest of the tutor who is educating her brothers. Her knowledge of herbal remedies and the hedgerows are an integral part of the novel, yet even with this ability she is unable to save one of her children.
The book is very much in two parts, while the first section covers both the parents early and growing family and William's eventual success when he escapes his own domineering, belligerent father to establish a life for the family in London; a move that never happens. His growing success within the theatrical establishment provides for them becoming wealthy local land owners. These rewards are very much in the second section after which their household is reduced by the loss of a child, and each remaining member suffers grief deeply.
Maggie O'Farrell has produced a very clever book. As ever her writing is always a reward to her reader, and in many reviews of this book it has been described as her best book yet. That accolade I am not convinced by, but then I have admired most of her earlier works. I did start this review by saying there was not a word out of place' however there is a significant geographical error towards the conclusion; one which should have been picked up by good editing prior to publishing, and alas one that seems to have endured into the paperback edition.
 
This book should be widely read. I am giving here an honest review which identifies an error, see if you can spot it; locals certainly will do.